Tutors find they learn in the center, too
Newman senior Taylore Nguyen has worked as a tutor in the center for the past four years. Nguyen is an education major, who has already completed a paralegal and history degree and a math minor. She is now finishing an English minor, and plans to earn a graduate degree in composition and rhetoric to teach at the college level.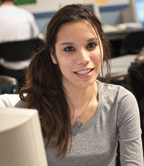 Nguyen said she came to the center to gain teaching experience. She got that, she said, and more.
"I've learned to communicate better with others, and to listen better to what the student needs," she said. "We work with different types of students — young people, adults, people whose first language in not English. As a tutor I have to put myself in their shoes and see how they're approaching things."
Her biggest challenge, she said, is when she feels she's not getting through to a student.
"But that's a good thing," she added. "It allows you to re-think what you're doing. Learning is an ongoing process, for everyone."
Tags:
English
,
Newman University
,
Taylore Nguyen