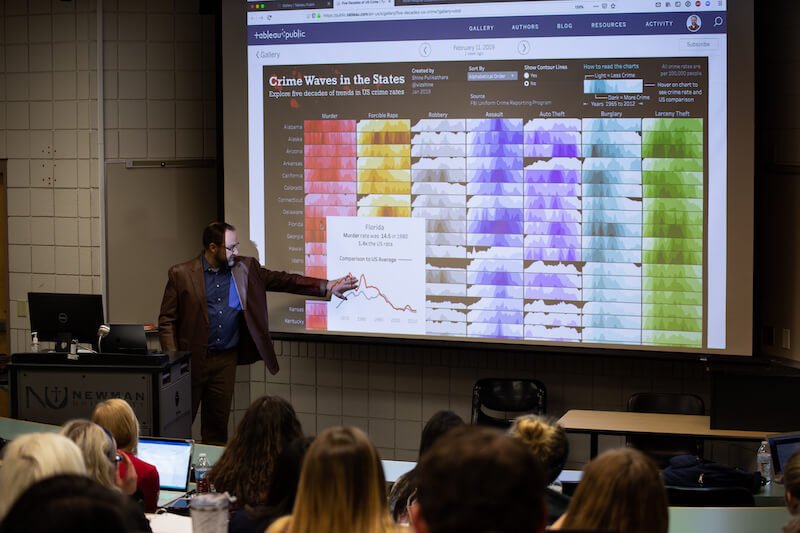 The Fall 2019 semester at Newman University brought two new bachelor's programs — Business Data Analytics and Social Work — to its list of already 40 undergraduate programs.
DATA ANALYTICS
The Bachelor of Science in Business Data Analytics program is designed to train students to be skilled data analysts and professional communicators.
Newman University School of Business Dean Brett Andrews said there is a high demand for data analysts in the Wichita community and beyond.
"The data analytics program is essential to the School of Business because it is critically important to the Wichita business community," he said. "Local, regional and national companies all need assistance in managing and interpreting data to be able to use it as a source of competitive advantage."
Andrews said the degree program was based around the needs of businesses in the Wichita community.
"We developed the curriculum with input from local companies," he said. "Graduates will be prepared to meet the current challenges facing these companies upon employment."
Data Analytics Professor David Cochran said there are a large number of opportunities awaiting students who can show the skills necessary for a data analytics career.
"Right now, there is so much opportunity and need for students who understand the world of business, who know how to ask strategic questions and can analyze the data and produce actionable insights."

– David Cochran
He said the new program takes a hands-on approach that focuses on a student's abilities.
"It's an exciting time to jump in. We open these leading tools from day one and get familiar with them as we learn how analytics is done," he said. "This puts our students in a great position. They learn the concepts while doing the work, and they can list marketable skills on their resume from day one."
Core courses include Data Analysis and Visualization, Descriptive and Predictive Analytics and Data Analytics Project Management. Students earning the degree will be required to complete an internship in the field.
BACHELOR OF SOCIAL WORK
After having a soft launch in spring 2019, the Bachelor of Science in Social Work (BSW) program at both the Wichita and Colorado Springs campuses was in full swing beginning fall 2019.
The BSW program will prepare students to be generalist social work practitioners with concentrations in either substance abuse or social services with diverse populations. The BSW program in Colorado Springs is the first of its kind in that area.
BSW Program Director Yelando Johnson, Ed.D., said the program is designed to incorporate different areas of study.
"The BSW is one of the most useful and flexible undergraduate degrees that includes collaboration across disciplines such as nursing, business, education and allied health professions," she said.
Johnson has teamed with BSW Field Director and Associate Professor of Social Work Natalie Grant, Ed.D., to build the contemporary BSW program and seek accreditation with the Council on Social Work Education.
"Establishing a BSW program is an opportunity to meet the needs and interests of our communities in new ways. We bring decades of
professional and educational experiences that informs our program design," Grant said. "Our goal is to educate future social workers on multiple levels and encourage a passion for social justice."
Johnson said the program will be composed of core classes already taught at Newman with new classes that focus on ethics.
"The inclusion of spirituality is not only a demonstration of one's cultural competence but a part of one's ethical responsibility as a social work practitioner."

– Yelando Johnson
She said there are a variety of careers awaiting those with a BSW degree.
"Newman's BSW prepares social work professionals from a generalist perspective for careers in mental health, integrated and traditional health care, addictions, aging and disability services, education, child protection, juvenile services, community organizing, government, military, corrections and leadership," she explained.
The program offers student experiences in and out of the classroom that include courses in diversity, spirituality, leadership and practice skills as well as unique field placement opportunities reserved specifically for Newman students.