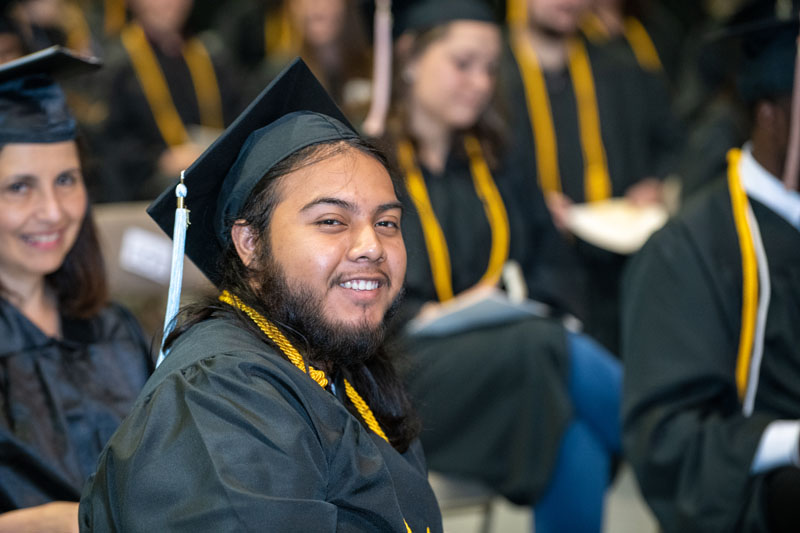 Irwin Torres at Newman Graduation
Irwin Torres said that, like everyone else, he has had his share of difficulties. However, he likes to believe several of these moments of hardship transformed into blessings.
At the age of 5, Torres had to accept and cope with his parents' divorce. Two years later, his dad experienced liver failure, which led to his death that year.
"It was pretty tough to be the happy child I was once," Torres said. "Losing a parent at such a young age takes a toll. You do not get the childhood experience a lot of your friends get."  
During his third-grade year, Torres and his family moved to Dodge City, Kansas, and life finally started to settle down.
"When I turned 16, I was determined to get a job to start earning money," Torres said. "That is when my mom informed me that I wasn't legal — I was an immigrant. I couldn't work, I couldn't be like my friends who were all getting jobs."
A few months later in 2012, President Barack Obama announced that those who had come to the U.S. before the age of 15 were eligible to apply for the Deferred Action for Childhood Arrivals (DACA) program.
"DACA changed my life, because now I was able to experience what working a job really entailed," Torres said. "I saw a brighter future for myself, and I saw myself in college doing something that I loved."
While Torres was in his senior year at Dodge City High School, he also took dual college credits through Dodge City Community College. He graduated from high school in 2015 with both his GED and his associate's degree and graduated from Newman in December 2017.
Torres was recognized with the Kansas State Department of Education "Teachers of Promise" award during his final semester, and was one of two teacher education students to participate in a specific professional learning and recognition opportunity.
Assistant Dean for Nontraditional Outreach Programs Jessica Bird said, "Irwin is an outstanding student, but that is just one quality that makes him a remarkable person. He has faced many challenges in his life. His perseverance and genuine kindness have made him a perfect candidate for the Teachers of Promise award, and I am very confident that he will be an outstanding educator who will change the lives of many."
During a summer semester at Newman, Torres' life changed again.
In July 2017, his mom was arrested for being an illegal immigrant and deported. Torres quickly had to learn to balance the responsibilities of work, school and home life, which included providing for his family.
"A lot happened that summer, and I grew up more than I needed to," he said.
"Everyone is experiencing life differently, and one of the reasons I chose to become a teacher was so that I could be that constant person in the lives of these students. I don't want them to grow up and never once have felt like someone didn't care to dig a little deeper. I also want to show them that they can overcome anything they are going through. I want to be their hope to be better — to show them that there is so much that life can offer."
Torres completed his first semester as a licensed teacher in May 2018, which was a big learning opportunity for him, he said.
"No one ever really prepares you for what to expect in your own classroom. Yes, we observed in classrooms and learned all these amazing strategies (as students), but actually implementing those strategies (in your own classroom) is another thing. But, I thoroughly enjoyed my first semester and I am more than excited for my first full academic year."
This fall semester, Torres will teach fifth grade at Miller Elementary in the Dodge City public schools. He said that serving 22 students in his first semester was challenging, so with a class of 25, he knows that will be a challenge as well — which he loves.
"I am very fortunate to be in a school that values a family setting. That is what really makes a school — passionate, hard-working, respectful and caring teachers. I have a great support system and if ever I find myself stuck I know I can trust our building to help me as best they can."
Torres plans to continue his education as he works toward his master's in English as a second language.
"With the rise in students who are speaking less and less English, I hope to serve them the best way I can," he said. "Just as the teachers helped me as I was first beginning to learn English, I also hope to grow as a teacher so that I can best meet my students' academic, social and emotional needs." 
(Photos courtesy: Carleigh Albers)