Vicki Bergkamp, ASC returns to Newman University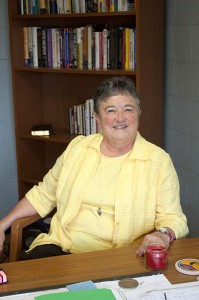 Vicki Bergkamp, ASC, returned to Newman University in the spring of 2013, following a 10-year absence. She is currently professor of business and chair of the Business Division.
Sister Vicki entered the Adorers of the Blood of Christ (ASC) community just after graduating in 1967 from Sacred Heart Academy. She earned a degree in business from then-Sacred Heart College in 1972. She later earned an MBA from the University of Kansas and a doctorate in education from the University of St. Thomas.
Sister Vicki taught math at the middle school and high school levels, and taught business classes at Newman beginning in 1979. She later became a member of the Board of Trustees, worked as ASC corporate treasurer, and from 1988 to 1989 was CEO and acting president of the college, in the interim period following the presidency of Robert Giroux, Ph.D.
For the past five years, Sister Vicki served as treasurer for the ASC U.S. Region. Previous to that assignment, she was professor and dean of the Adult College at Friends University.
"I really have seen over the years a steady improvement [at Newman] based on the clear mission of education," she said. "The impetus is always on improving the educational experience of the student. It's wonderful to be back. It's like coming home."
Perhaps in more ways than one: Sister Vicki has the same office in McNeill Hall today that she had during her previous years on the Newman faculty.
To contact Sister Vicki call
316-942-4291, ext. 2242, or email [email protected].
Tags:
Adorers of the Blood of Christ
,
ASC
,
Newman University
,
Vicki Bergkamp