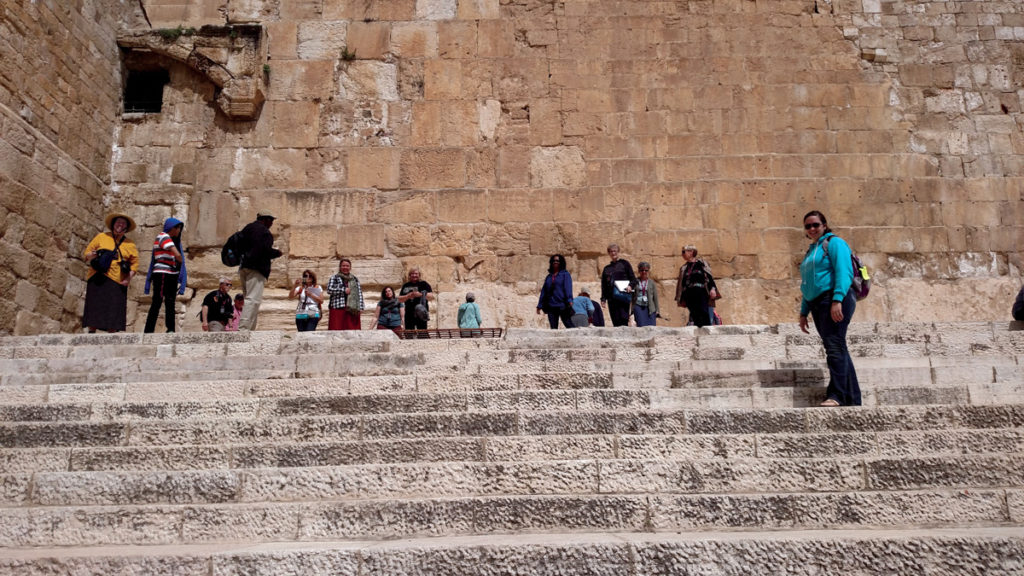 NEWMAN THEOLOGY GRADUATE STUDENTS EXPERIENCE AN EDUCATIONAL AND SPIRITUAL JOURNEY
During spring break 2017, the graduate theology program at Newman University organized its very first pilgrimage trip to the Holy Land. Newman faculty, students, former students, family and friends — 38 in total — journeyed to Israel in March for a 10-day educational and spiritual experience.
The planning for this trip began about a year ago after Dean of Graduate Studies Father Joseph Gile approached Associate Professor of Theology Matthew Umbarger with the idea. In the past, students were given the opportunity to go to Rome if they chose to do so. The two decided that the trips would alternate annually as both are similar in length and composition. Umbarger lived in Beer-Sheva, Israel, for nine years and was excited to return and share his love for Israel with the pilgrims.
Although the academic aspect of the trip was important, Umbarger hoped the group would come away with something spiritual as well. He stressed the significance of "making contact with the places where the whole scope of salvation history really took place, especially those places associated with the life of our Lord."
They were guided in Israel by Ariel Birnbaun, a licensed guide with Sar-El tours, who took their Catholicism into great consideration. He arranged for meatless Fridays and scheduled time for daily Mass. The group visited places such as Galilee, Nazareth, the Mount of Beatitudes, the Dead Sea, the Church of the Holy Sepulcher, and the City of David. Birnbaun patiently explained the significance of where they were and gave them a Jewish understanding throughout their tour. Umbarger knew that visiting the sites on their tour would have a powerful effect on the pilgrims.
"Sometimes I think in the United States," he said, "because everything is so new here, if something is 150 years old we think it's ancient. But then you go to Israel and see a church that was built on the ruins of another, that was built on the ruins of another and all the way back to the 300s, it takes your breath away. It helps you realize how ancient our faith is. It's not something we're making up as we go. It has roots. Right back to the time of Christ."
The trip had many highlights for the group. Celebrating Mass in the holy places every day with Father Gile, and hearing him read from the Gospels about things that had happened in the very place they were standing was moving. Discovering new foods, reveling in the beauty of the land and cultivating new relationships — or in Umbarger's case, rekindling old ones — were all experiences they will cherish. The group also had the opportunity to celebrate Mass in Hebrew with the local church in Jerusalem in the House of Saints Simeon and Anna.
Umbarger said, "One particularly favorite memory that I will always cherish happened at the Orthodox Church of Mary's Tomb near Gethsemane, which was built by Empress Helena in the fourth century. It was fairly chaotic and crowded getting down there, and the headsets weren't working so well, so many people in our group were not aware of where they were. One lady, a dear friend from my parish, came up to me a er she had already processed through the tomb and asked what the significance of the site was.
"When I told her that this was the place where Mary had been brought after she fell asleep and where she was then assumed into heaven, she was completely overcome with emotion. She was unaware that such a place even existed, and the sudden awareness of what she was seeing was almost too much for her to take. I didn't know if we were going to be able to get her to leave. With tears streaming down her face, she hugged me and said repeatedly, 'Thank you for bringing me here.' The entire pilgrimage was worth it for just that moment alone."
Umbarger commented that the biggest challenge was finding a balance between visiting as many sites as possible and allowing time for the group to explore and experience the sites on their own. "We really wanted this to be a pilgrimage of prayer and spiritual development," he said, "and not a sightseeing tour. I think that we were successful.
"The group was incredible. We got along great together, and everyone was enthusiastic about every single site."
---
Learn more about the Master of Theology program.
Tags:
father gile
,
holy land
,
Israel
,
Mass
,
Theology