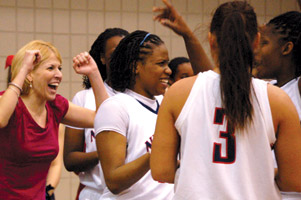 The Newman University Women's Basketball Team won its second-straight regular season conference title and the 2012 Heartland Conference Tournament Championship, before losing in a tough quarter-finals game against Northeastern State University in the NCAA Div. II South Central Regional Championship Tournament.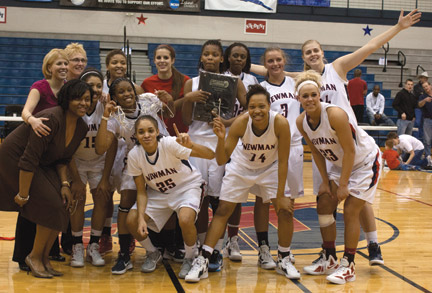 While the 53-45 loss to Northeastern State of Tahlequah, Okla., was clearly a disappointment, it didn't change the fact that women's basketball at Newman had a remarkable season – topped by its first-ever bid into the NCAA Div. II National Championship tournament.
The Jets, led by second-year Head Women's Basketball Coach Jaime Green, had a strong year, finishing the regular season at 21-5 overall and 10-2 in Heartland Conference play. In addition to the satisfaction that came from winning back-to-back regular season titles, securing the top spot gave Newman the honor of hosting the conference championship tournament in Fugate Gymnasium, a first for the Jets.
In the tournament, the team beat St. Mary's University of San Antonio, Texas, 62-45, then came out on top of a tight game against the University of Arkansas-Fort Smith 66-62, clinching the Jets the Heartland Conference Championship and advancing the team's record to 23-5.
In late January, the women's team earned a No. 23 national ranking in a USA Today/ESPN Division II Top 25 Coaches' Poll. While the Jets later dropped out of the Top 25, the team remained a force to be reckoned with through the end of the season.
The Jets were led by senior guard Satoria Bell, who averaged more than 23 points per game in her first season at Newman. Bell was named Heartland Conference Player of the Week nine times, and earned the Heartland Conference Player of the Year award. She was also named the Daktronics South Central Region Player of the Year, as voted on by the region's sports information directors.
Other stand-out players included Tasha Cannon, who along with Bell was named to the 2012 All-Heartland Conference First Team, and Kianna Flannagan, who earned honorable mention honors.
.
.
.
.
.
.
.
.
.