Wrestling Team Devotes Season To Teammate Reece Wright-Conklin
The Newman University wresting team had a challenging season, which began with the tragic death of a favorite teammate early in the 2015 fall semester.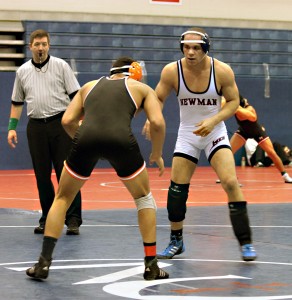 Senior Reece Wright-Conklin, 21, died on Sept. 3 in a motorcycle accident on his way to work.
Wright-Conklin was a three-time state champion at Lawrence, Kan., high school and had close to 20 wins in 28 matches his freshman year at Newman. He had multiple surgeries on a troublesome knee after his freshman season. The 2015-2016 season was to be his first season back on the mat since the beginning of his sophomore year.
Wrestling Head Coach Ryan Smith said the loss of Wright- Conklin deeply impacted the team.
"He was the real deal," Smith said. "He had a presence about him."
Though the accident left the Jet's wrestling team reeling, the squad decided to dedicate the 2015-2016 season to Wright-Conklin so that his memory could live on.
Junior wrestler Dustin Reed said that Wright-Conklin hasn't left his or any of his teammates minds.
"Reece's passing has definitely been a huge motivator for the team," Reed said. "We find ourselves talking about him all the time and remembering all the things we used to do with him or the stories about the crazy things he would do."
The team honored Wright-Conklin at this season's Jet Invitational by dedicating the tournament to him, and retiring his shoes during a moment of silence. The Jets presented plaques to Wright- Conklin's family, kid's club coach and high school coach. It was also announced that the tournament's name is changed to the Reece Wright-Conklin Jet Invitational.
The wrestling team had its best showing at the invitational in its six years of existence, posting two individual champions and six place winners.
"He was a competitor. He only knew one thing and that was to win," Smith said. "And that's the way he was in life. He did everything to the fullest. There was no half-in with that kid. He was all in."
To read more and see video of the dedication ceremony, visit go.newmanu.edu/reece.