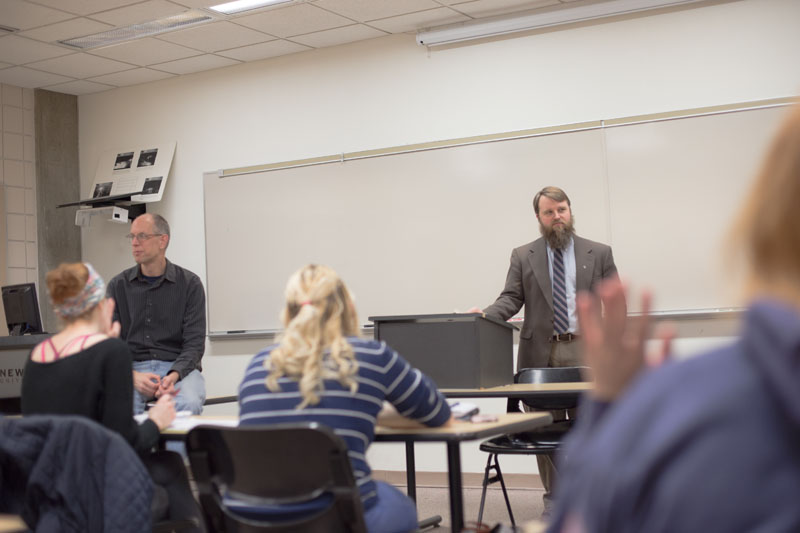 (l to r) Kelly McFall, Ph.D., and Matthew Umbarger, Ph.D., talk with students during their NSP course, "Holocaust and its Legacies." Photo by: Dan Murphy
No matter what one's major, nearly every college student has to take general education courses — introductory classes in humanities, science, arts and more that give students an opportunity to get a well-rounded education
The Newman Studies Program goes beyond general education, emphasizing critical thinking and exploring different viewpoints
At Newman University the Newman Studies Program (NSP) expands on the concept of general education courses. It's a second, more diverse offering of required classes with more emphasis on critical thinking, dealing with various viewpoints and forming opinions and principles — the kinds of things that go beyond making one book-smart but also life-smart and ready to tackle new jobs, be an engaged citizen and quite possibly even a better person. NSP classes, taken during both the junior and senior years of a Newman student's academic career, generally combine two disciplines or subject matters — often in timely topics — to give students a distinctive academic experience and a way of learning and perceiving the world around them that is intended to serve them the rest of their lives. Students are also required to take a capstone class, where they present research findings inspired by NSP classes during a presentation called Scholars Day.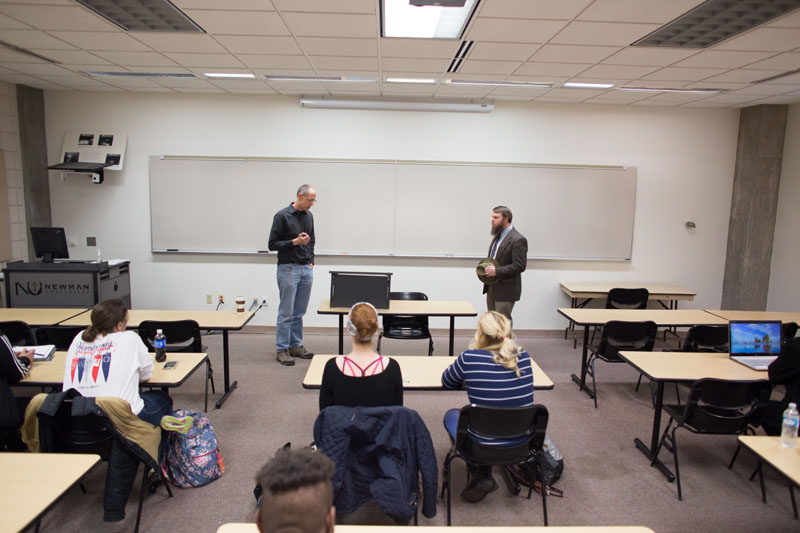 "The key component (of the NSP) is that it's interdisciplinary," said Matthew Umbarger, Ph.D., assistant professor of theology, who team-teaches "Holocaust and its Legacies" with Kelly McFall, Ph.D., associate professor of history.
"This is the chance to get the skills you need for not only your job but also to feed the skills you want and need outside the job," said McFall, who was part of a Newman faculty committee that worked for three years to develop the Newman Studies Program before it made its debut in fall 2011. 
"We often focus on the first job and not on later in your career path," he continued. "These skills will help you switch jobs. It's not the technical skills that you need but the other qualities these classes provide that are valuable."
Audrey Hane, Ph.D., professor of communications, said the classes help prepare students to handle ethical issues in the workplace, resolve conflicts in relationships and become good community members.
As Chris Fox, Ph.D., an associate professor of philosophy who was also on the NSP development committee, put it: The classes help develop "habits of the mind."
Lexy Cochran, a senior majoring in biology, said taking NSP classes have helped her look at topics from a broader perspective and yet see the interconnections of issues. A fan of baseball, Cochran took "America Through Baseball" one semester. Part of the course content involved looking at how societal issues, such as racism, were reflected in America's pastime. 
She found another NSP class, "Art and Craft of Happiness," particularly meaningful. Taught by Michael Duxler, Ph.D., associate professor of social work, and Marguerite Regan, Ph.D., associate professor of English, the class encourages students to explore and better develop such qualities as compassion, well-being, charity, altruism, kindness and love by studying affective neuroscience (the study of the brain and processing of emotions) and using journaling and meditation. A self-professed "fretter," Cochran said the class has already helped her be more mindful and self-aware as she finishes her final semester at Newman and applies to medical schools.
Since she's pursuing a degree in biology and a possible career as a doctor, Cochran also took "Science and Society," a class that delves into the development of science and how it's come to shape cultural, historical and social factors influencing the world.
After taking "Holocaust and its Legacies," which offers perspectives from victims, bystanders and perpetrators, Amy Emerson, a junior majoring in English and communications, now realizes how "little things and interactions can cause rifts and strained relationships."
Other classes cover issues such as creating organizations that can be characterized as responsible and just, studying the biology of the body and theology of the soul, analyzing the concept of borders and the effects on faith and human rights, and more.
"The NSP offers classes that try to teach you to expand on what you've already learned," said Cochran.
That's an important difference from taking introductory general education courses, say the professors involved in teaching the NSP classes. Also, the capstone class provides an opportunity for the students to showcase skills outside of memorizing facts and content.
"Newman is a liberal arts university that believes in the concept of a general education that has components that we think every student should have in their education," said Jamey Findling, Ph.D., associate professor of philosophy. NSP classes "are opportunities to grow and expand oneself in a lot of different ways. We're far from the only university to embrace the idea of a general education. A big differentiating factor is the capstone class."
During Newman's recent re-accreditation process with the Higher Learning Commission, evaluators had high praise for the university's innovation and student impact in creating the Newman Studies Program.
It seems appropriate that a program that expands on general education was developed at Newman University, the only American Catholic university named for Cardinal John Henry Newman, an influential 19th century theologian, educator and author of "The Idea of a University." Newman believed that while a university education should encompass a wide range of disciplines in the liberal arts and sciences, performing arts and professions, it should also give students more than what he saw as a shallow understanding of many different fields. Newman wrote, "The end of a Liberal Education is not mere knowledge." Rather, he believed the goal of education was the "enlargement" of the mind, or the ability to compare ideas, generalize, incorporate new information into existing systems of knowledge, and find meaning. 
More studies, including a recent one by Google of its employees, show that employers are looking for qualities and skills such as communication, problem-solving, critical thinking, being able to engage in civil discourse and more. NSP classes give students — and even faculty — the ability to do that because they combine different disciplines, say participants.
Fox, the philosophy professor, and Cheryl Golden, Ph.D., professor of history and director of international studies, commented that because the courses are so much more than content, changes are even happening among the faculty because of the collaboration. The classes bring out the best in faculty, said Golden, giving them the opportunity to model how to have discussions from different viewpoints. 
"I really like the team teaching," Emerson said. "I can tell when the professors are learning from each other and the students."
Fox added, "(NSP) is a place where good teachers … can become better teachers. Some of the old dogs need to learn some new tricks, and I was one of those. And it's changed me.
"We are producing pedagogy that is being seen elsewhere, and is being emulated elsewhere. The students that are looking to come to Newman University should know that. We aren't yesterday's university. We are the university that's got its eye on tomorrow — in a big way."
---
Learn more about the Newman Studies Program at https://newmanu.edu/nsp