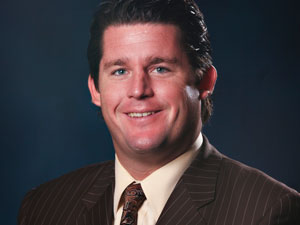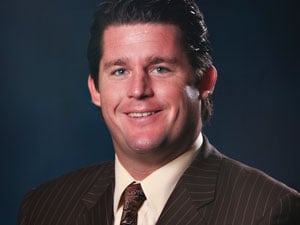 As I begin my term as Alumni Board president, I want to tell you what an honor and a pleasure it is for me to serve in this capacity. It is also my pleasure to welcome six alumni who began three-year terms on the Alumni Association Board of Directors July 1, 2009, and share with you some of their activities. Get to know them, and most of all, respond when they contact you to get involved with the university or to reconnect with other alums at an event. You'll find biographical information and contact information for new and returning board members on the alumni Web page, www.newmanu.edu/alumni.aspx.
New board members Michelle Ruder '03 and Anthony Tamburro '03, '07 are working to identify the interests and needs of our MBA and undergraduate business program alumni. They'll be hosting "before" and "after" work events for their constituencies in Wichita on Nov. 19 in the Tarcisia Roths, ASC Alumni Lounge. In an era where it truly is not what you know but who you know that counts, they hope to create some positive opportunities for networking and mentoring relationships between current students and our alumni active in the business world in Wichita and around the world.
Two other new board members, Timothy Belsan '05 and Kevin Blick '05, teamed up to organize two socials for Newman alums in northeast Kansas and the Kansas City metro area on Oct. 2 and 3. Admissions recruiters Jessica Shinstock and Jeff Van Dorn joined alums to talk about their efforts in this, our fastest growing source of new students. They will follow the model already well established by alumni in Texas and Oklahoma for assisting area recruiters and territory managers with recruitment fairs and follow-ups with interested students.
Recently elected board members Ashley Powers Dalian '99, '01 and Shana Jarmer Camblin, M.D. '00 worked to get folks excited about the Oct. 23 alumni volleyball reunion and Family Weekend activities, as well as the Nov. 20 basketball alumni games and class reunions. Watch the Web for more details on alumni games, reunions, and other upcoming events.
Elected to serve on the executive committee with me for 2009-2010 are Vice-President Christine Siefers '91 and Secretary Lisa Hammerschmidt '97. I owe a debt of gratitude to Immediate Past President Sheila May Maksimowicz '77, who did an admirable job serving the university through its 75th Anniversary year. We had a great time surprising her with a thank you reception on the final Saturday of her service.
For my part as president, I pledge to keep our Alumni Association visible and viable as a development arm to support the record number of students on campus. Your financial support of the university really matters. The percentage of alumni who give something each year is used as a barometer of alumni satisfaction and support. I challenge you to make that percentage grow. You'll be hearing more from me on this matter in the very near future. So please watch your mail, open it, read what I have to say and most important, respond. You are Newman's future.
Go Jets!
Tags:
75th Anniversary
,
Alumni Association
,
Alumni Association Board of Directors
,
Anthony Tamburro
,
Ashley Powers Dalian
,
Christine Siefers
,
Family Weekend
,
Immediate Past President
,
Internet
,
Jeff Van Dorn
,
Jessica Shinstock
,
Jets
,
John Rapp
,
Kansas
,
Kansas City
,
Kevin Blick
,
Lisa Hammerschmidt
,
Michelle Ruder
,
National Alumni Association
,
Newman National Alumni Board
,
Oklahoma
,
Shana Jarmer Camblin
,
Sheila May Maksimowicz
,
Tarcisia Roths ASC Alumni Lounge
,
Texas
,
Timothy Belsan
,
Wichita