Joanna Pryor named new volleyball coach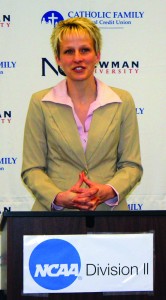 Joanna Pryor was recently named head volleyball coach at Newman University. Pryor, a native of Attica, Kan., came to Newman from Cowley Community College, where she built one of the strongest junior college volleyball programs in the country, and took her last four teams to the national tournament.
Pryor said she plans to bring both success and excitement to Newman volleyball.
"Success is going to help get our name out there," she said. "At Cowley we lost once a year at home, and our fans were stunned – they didn't know what to do. That's what I'd like to do here. Let's stun our fans and win some matches, and get them ready to scream and yell for us."
Tags:
Attica
,
Cowley Community College
,
Joanna Pryor
,
Kansas