Newman University recently launched a new website and a television advertising campaign designed to make the university more accessible and appealing.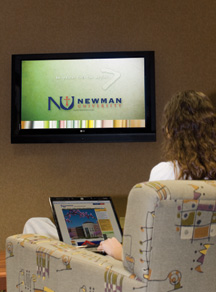 The new website was the culmination of an effort to improve the university's web presence and provide a more user-friendly experience for site visitors. The overhaul began with a new calendar and a news site to provide central locations to find important information on events and developments throughout the university. In late July Newman released the remainder of the new site, which features information about the university in a better-organized and easy-to-use format.
The design of the site is built upon the university's latest marketing campaign, "be greater than the degree." The design and functionality of the new site were created by the University Relations Department, with the exception of the Athletics and Giving sections, which were created by third party companies under university direction.
"Building a new site from the ground up is a daunting task for any organization," said Director of Communications Kelly Snedden. "It meant a lot of work for everyone as we had to balance this project with our normal workload, but the result is worth it. This site, with its automation, appealing photos and functionality, really advances the university's presence on the web."
The new TV campaign was launched in August. It also reflects the "be greater than the degree" theme while informing prospective students that Newman is a surprisingly affordable option. The campaign includes two commercials, one targeted at high school students and the other at returning adults, both of which feature actual Newman students.
See the first new TV spot below.
Tags:
Athletic Department
,
Be greater than the degree
,
Giving
,
Kelly Snedden
,
University Relations