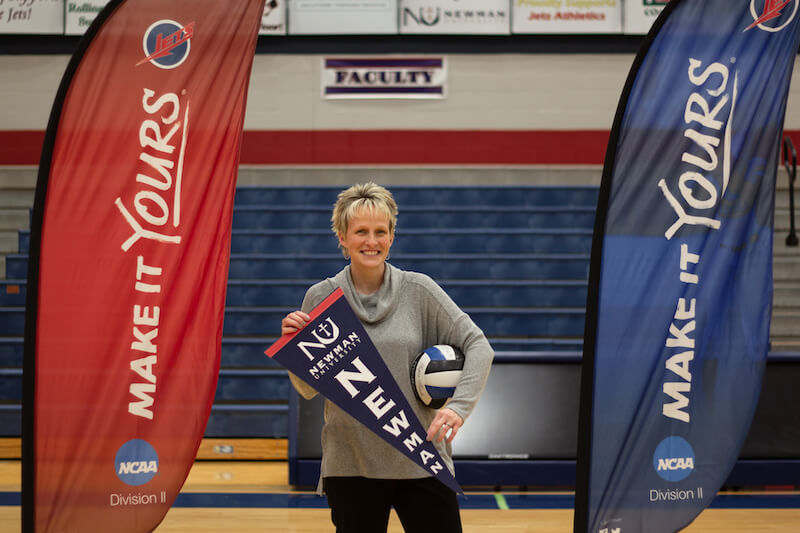 Joanna Pryor, former associate director of athletics at Newman, will lead the jets into the Mid-America Intercollegiate Athletics Association (MIAA) As the only female athletic director in the conference.
Pryor took over as Newman University's director of athletics July 1, 2019, following Vic Trilli's retirement.
According to Higher Education Publications Inc., as of July 2018, 41 out of 312 NCAA Division II schools have female athletic directors — that's only 14% of the schools.
Pryor said it feels empowering to be the only female leader in the MIAA.
"I think you get what you work for and it's exciting. It is kind of crazy to think about, but I'm looking forward to it and I have a lot of support from all sides."
Trilli felt more than comfortable leaving Newman athletics in Pryor's hands. He said, "I'm confident that people will recognize quickly the many skills and great leadership abilities she will bring to the role."
Pryor's past experience in athletics, specifically at Newman, has put her and the athletic department a step ahead. She has eight years' experience as associate director of athletics and acting as NCAA compliance coordinator.
In fact, Pryor has spent her entire career to date working in sports and said she feels right at home in what some call "a man's world."
She earned a Bachelor of Science in sport administration at Wichita State University in 2001, and a Master of Science in Education at Newman in 2014.
From 2001 to 2009, Pryor was head volleyball coach at her alma mater, Cowley College, in Arkansas City, Kansas, where she finished with a 218-93 record. She led the Tigers to four National Junior College Athletic Association national tournament berths, finishing as high as second in the nation.
Pryor then served as the head volleyball coach at Newman for two years before moving to athletic administration duties.
With Pryor's move from assistant athletic director to athletic director, the department's administrative staff needed to be restructured.
Former Head Baseball Coach Zane Ehling has filled the position of associate athletic director for external operations and Maureen Rohleder, associate athletic director and senior woman administrator, has added the role of director of compliance.
"With the reorganization of our administrative staff, we are hoping to be more efficient and provide enhanced opportunities for student-athletes," said Pryor.
Under her leadership, the athletic department plans to prioritize the student-athlete experience as well as alumni engagement.
"This is a very exciting time for Newman and we are ready to capitalize on all of our changes. We hope to provide an exciting environment for the Newman community and the Wichita community as we join the MIAA."

— Joanna Pryor
Newman is the only private NCAA Division II program in Kansas and will be the only private university in the MIAA.
"It presents a challenge, but a good challenge that I think we're all ready to accept," said Pryor. "The MIAA is one of the best conferences in Division II but we have a lot of teamwork. We have great coaches here at Newman and if we can work together we can be successful."
Newman University President Noreen M. Carrocci, Ph.D., expressed her confidence in Pryor's ability to lead the athletic department.
"We interviewed three candidates from among the 85 applicants. In the search process, Joanna met with the committee, coaches, student-athletes, booster club members and the cabinet plus took part in an open forum with faculty and staff.
"Every constituency with whom Joanna interviewed gave her nothing but positive comments and high ratings in all categories — communication skills, leadership, understanding of our mission, knowledge of our athletic department and the university, ability to form relationships and more," Carrocci said.
She added, "Having Joanna Pryor take the helm of the athletic department as we move to the MIAA gives me great confidence. She is the right person with the right skill set to lead us into a promising future."