Professor Steve Palubicki built a 34-year career at Newman
When Professor of Biology Steve Palubicki came to Kansas Newman College in 1975, the student population was 669, the Heimerman Science Building was only nine years old and considered quite "modern," the price of a first-class stamp was $.10, and Hawaiian shirts – such as the ones Palubicki began wearing to work not long after he was hired – were cool.
Today, Kansas Newman College is Newman University, the student population is 2,041, the Heimerman Science Building is on the downhill side of 40 (and looks it), the price of a first-class stamp0 is $.42, and Hawaiian shirts – such as the ones Palubicki continues wearing to work each day – are still cool.
If Palubicki's sartorial habits haven't changed much since 1975, plenty of things besides the price of postage have. For one, Palubicki has now taught more than 25 different courses to approximately 5,000 students over the years. For another, the nursing and allied health programs he helped create have grown from minor health care degree programs in a field of large competitors to some of the most respected in the area. And with his help, the Department of Biology has produced countless graduates who have gone on to transform society though successful careers in medicine, business, research, microbiology, education, government service, and a host of other fields.
On May 16, 2009, after 34 years as professor, advisor and mentor of students in the Department of Biology, Palubicki will retire from Newman and from a career he said has brought him a great deal of satisfaction.
"It's been a wonderful experience for me," Palubicki said. "I feel very fortunate that over the years I've been able to stick with something I was trained in and I enjoy. And, it's true of all teachers that you get to meet a lot of new people, and that's been a delight over the years."
Palubicki came to Newman directly after earning his Ph.D. in animal physiology from the University of Minnesota in his home state, and has spent his entire career at Newman. His academic areas of interest include physiology and pathophysiology, as well as nutrition, risk assessment and aging, while his personal areas of interest range from genealogy to mystery novels to fitness and yard work.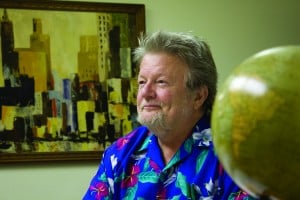 Known for his openness to and advocacy for students, Palubicki's animated facial expressions, welcoming smile and sense of humor have helped put many a student at ease when dealing with the complex nature of biology coursework. He has received many awards over his career – including the student-selected Teaching Excellence Award in 1991 – served as department and division chair, and was recognized by nurse anesthesia students as the Outstanding Didactic in 2001 and 2007.
In addition to the academic, personal and professional rewards, Palubicki pointed to another reason he has stayed at Newman for more than three decades.
"Working at Newman has been a really nice match for me in terms of what the Sisters intended – respect for the dignity of all people and service to others," Palubicki said. "That's been a wonderful feeling of satisfaction for me all the time I've been here."
Following his retirement, Palubicki and his wife Kate will move to the Kansas City area to be closer to their son, daughter-in-law and another major interest in his life – his grandchildren. His contributions both professional and personal to the Newman Biology Department, however, will remain long after he is gone.
"It will be difficult to imagine the Biology Department without Steve's influence," said Professor of Chemistry and Dean of the School of Arts and Sciences David Shubert, Ph.D. "He has always had a reputation with students for being available for consultation and advising. It is those little things that make a good educator a great educator, like Professor Palubicki."
Tags:
Adorers of the Blood of Christ
,
Biology
,
Chemistry
,
David Shubert
,
Hawaii
,
Heimerman Science Building
,
Kansas City
,
Kansas Newman College
,
Kate Palubicki
,
Newman University Teaching Excellence Award
,
Outstanding Didactic
,
School of Arts and Sciences
,
Steve Palubicki
,
University of Minnesota