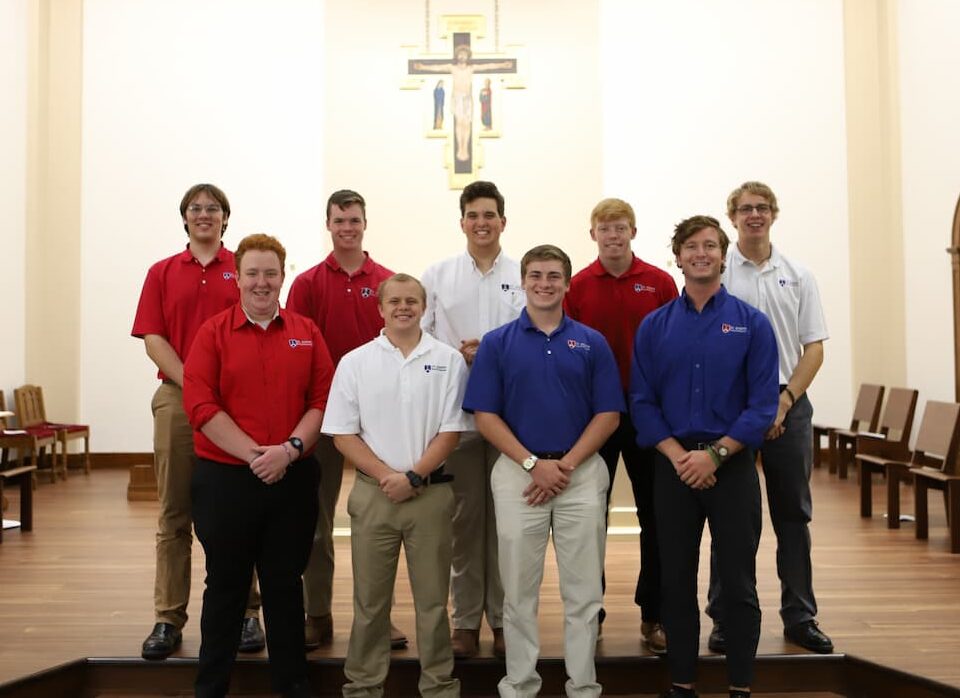 Eleven first-year seminarians are starting their path to the priesthood by pursuing a degree at Newman University.
In 2017, the Catholic Diocese of Wichita established the St. Joseph House of Formation for seminary students seeking higher education. The seminarians then started their studies to obtain their associate and bachelor's degrees through a partnership with Newman, the only Catholic university in the diocese.
The group of 11 first-year seminarians are Mason Lubbers and Theodore Sponsel of St. Peter the Apostle in Schulte, Kansas; Ethan Albers of St. Rose in Cheney, Kansas; Samuel Gorges and Caleb Papsdorf of St. John, Clonmel, Kansas; Luke Timmermeyer and Patrick Carney of Wichita's St. Francis of Assisi; Ben Wemhoff of St. Thomas Aquinas in Wichita; Paddy Olson of the Church of the Blessed Sacrament in Wichita; Alex Klein of St. Jude, Wichita; and Caleb Garner of St. Elizabeth Ann Seton, Wichita.
Chaplain Father Adam Grelinger, a Newman alumnus of 2011, has served as the House of Formation's director of field apostolates since 2021. Through this role, Grelinger helps place and evaluate prospective seminarians in their training to become priests.
Grelinger said the continuing partnership between the university and the House of Formation has proven fruitful in many ways.
"The seminarians get a high-quality education here in the diocese," Grelinger said. "At the same time, Newman students witness their peers actively discerning a vocation and merging faith with academic rigor."
First-year seminarian Paddy Olson from the Church of the Blessed Sacrament said it is a privilege to spend his formative years in such a close proximity to home.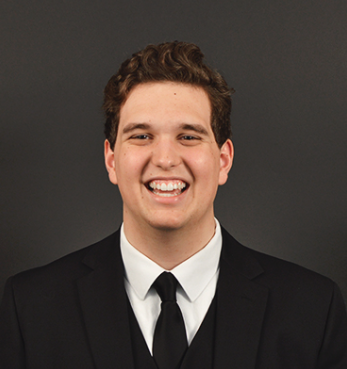 "Newman helps us to grow in our knowledge of and love for the diocese and its people, while also giving us a wonderful community with which we can connect and share our gifts," Olson said. "No longer are we sent off to some distant land as soon as we enter seminary — rather, we double-down on our connections here at home."
It also gives future priests of the diocese the opportunity to interact with the founders of Newman, the Adorers of the Blood of Christ, and become familiar with their history, contributions and charism.
The first class of House of Formation Newman graduates from 2020 were Caleb Kuestersteffen, Tomas Nolla, Jesus Banuelos, Matthew Cooke and Will Mohr.
"Some of the guys worried if their philosophical education and seminary formation from the new House of Formation and the small Newman University could stack up to what other seminarians received around the country," Grelinger said. "It didn't take them too long to realize they were more than prepared for the next step."
Now, looking to their diaconate ordination in May 2023, Grelinger said "the project has clearly borne good fruit and has truly been blessed."
He added, "We are filled with gratitude to God, for these young men's 'yes' to the call, for the donors who made the House of Formation possible and for the faculty and administration of Newman."
Learn about the Theology program
Learn about the Pastoral Ministry program
---